Jawaharlal Nehru Technological University
Jawaharlal Nehru Technological University
Jawaharlal Nehru Technological University
Post Graduate Programmes (M.Tech./M.Sc./M. B. A./M.Pharm) Admissions : 2011
(Advt. No.: JNTUH/ADMNS/PTPG/2011)
Applications are invited from the eligible candidates for admission into Part Time Post Graduate Programmes offered by JNTUH, Kukatpally Campus, Hyderabad for the academic year 2011 as detailed below:

M. B. A. Part Time Programmes :

M.B.A. (HR / Finance / Marketing / Systems)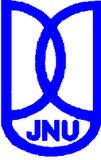 JNU MBA Admission Entrance Examination Delhi, 2011
About JNU:
JNU was founded 1969 and it is under the membership of the Association of Indian Universities. But it inculcates the deep understanding of the subjects and the enhancements in the abilities of observation and analysis. The University is having the capacity of more than 5500 students and faculty staff is around 500. The rank of the University is 183 among the top 200 Universities of the world.The JNU style of education is sheerly different and unique.
JNU Entrance Exam is one of the most tough university exams. The name of the University was after the name of the Prime Minister Jawaharlal Nehru.
NU accepts Score in JMET (Joint Management Entrance Test) and CAT (Common Admission Test) for admission. Successful candidates require appearing in Group Discussion (GD) and Personal Interview (PI) for final selection.
Jawaharlal Nehru Technological University | Admission 2010-12 to MBA
Jawaharlal Nehru Technological University (JNTU)
Hyderabad
MBA (International Business)
ADMISSIONS 2010-2012
Jawaharlal Nehru Technological University (JNTU), Hyderabad, university provided with 'A' Grade accreditation by NAAC (National Assessment and Accreditation Council) has invited application for the courses of MBA (International Business) and Collaboration MBA Programme for the Academic Year 2010-2011.
Notification : National Academy of Construction PG Diploma Admission Notice 2009
Info: MBA Programmes at Jawaharlal Nehru Technological University
BBA in Tourism & Hospitality Management (2008-2012) - Jawaharlal Nehru Technological University Hyderabad