(Admission Info) MBA Admission Entrance Examination At JNU Delhi, 2011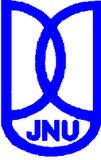 JNU MBA Admission Entrance Examination Delhi, 2011
About JNU:
JNU was founded 1969 and it is under the membership of the Association of Indian Universities. But it inculcates the deep understanding of the subjects and the enhancements in the abilities of observation and analysis. The University is having the capacity of more than 5500 students and faculty staff is around 500. The rank of the University is 183 among the top 200 Universities of the world.The JNU style of education is sheerly different and unique.
JNU Entrance Exam is one of the most tough university exams. The name of the University was after the name of the Prime Minister Jawaharlal Nehru.
NU accepts Score in JMET (Joint Management Entrance Test) and CAT (Common Admission Test) for admission. Successful candidates require appearing in Group Discussion (GD) and Personal Interview (PI) for final selection.
Information about the MBA admission:
Admission to the MBA Programme at Jnu is achieved through a two step process.
The first step is the Joint Management Entrance Test (JMET) / CAT.
The second step of the selection process consists of a group-task and personal Interview. The results of the JMET are used to short-list applicant for this step.
Contact Details:
Jawaharlal Nehru University,
New Mehrauli Road, New Delhi,
India. Pin Code: 110067.
Website: www.jnu.ac.in
Courtesy: jnu.ac.in